Webinar: Digital Communication Strategies to Drive User Adoption

Often, getting access to the data points that matter most early in the customer journey can be difficult. You can easily miss opportunities to deeply understand your customers' behavior, when your insights really depend on those data points. But, if you're utilizing digital communication, you have access to all sorts of "marketing" metrics, that can help you understand the engagement of your customers with your product and your communication!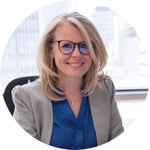 In this webinar we discuss how to:
1. Leverage digital email/in-app metrics as a way to track overall engagement
2. Create strategies for Onboarding and Adoption with a digital approach
3. Combine automated tech touches with human interaction to craft the best engagement strategy

Presenter: Megan Macaluso, Vice President, Strategic Development, ESG

Megan is the VP of Strategic Development at ESG which delivers Customer Success as a Service. They help clients efficiently extend their customer coverage model, refine their digital communication, and improve CS maturity leading to happier customers and a stronger organization.
View On-Demand